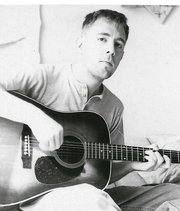 Founded in 2007, the Twin Cities Jacks is the only LGBT soccer club in Minnesota. We field teams in local, national, and international tournaments, host social outings for LGBT soccer fans, promote the sport of soccer to the LGBT community, and educate other soccer organizations about homophobia in sports.
The organization was founded by the late JB Becker and simply called, MN GLBT Soccer. The first activity was held at Corner Kick Soccer in Maple Grove in January of 2007. Four persons showed up, one of whom was Andy Birkey. JB and Andy grew the evening pickup steadily from 4 to 25 people a night in the course of a few months. By summer the organization was hosting socials at local establishments such as Pi, and then the 19. The first two league teams formed, The Flamingos and The Pineapples. By fall of '07, the team became the Orange Crush. A name that would last for a few years.
The next year we held a banquet called '80s in '08 at Camp. It was a beer bust with special recognition such as MVP, Best Legs, and Most Improved. This was a year of firsts, such as hosting an internal 7v7 tournament at Bryn Mawr Park. Regular pickup soccer at Texatonka Park in St. Louis Park. JB Becker was diagnosed with cancer in 2009 and remained active with the club through his two year battle with melanoma. Despite chemo and surgery, it metastasized and spread to his brain and other organs. At this time others rallied behind JB to make sure the club kept moving forward. A team was then formed to play in their first international tournament which was in DC. The youthful team partnered with the Dublin Devils to form a full roster and a co-named team Devil-Crushers.
Building off the momentum of 2009 and desiring a re-brand, the name as we know it today was born through much debate by the growing leadership team. The newly named Jacks deployed a team to the Gay Games in Cologne in 2010. The Gay Games, a creation of the Federation of Gay Games (FGG), are easily coined the "Gay Olympics" as they are hosted every four years in host cities who big to host more athletes than the Olympics themselves. The Jacks partnered with the Austin Goldstars to place 4th out of 32 teams. The team also participated in the North American Outgames by GLISA in Vancouver in 2010.
Between 2010-2011 the Jacks grew the member base to over 75 community athletes participating in summer pick up soccer and year round soccer in leagues such as the Cities Sports Connection. One of those persons was Ryan Adams. Despite 10 years away from the game, the Jacks were an opportunity to get back to the sport and even apply his MA in Sport Management. After a season with the Jacks, Adams relieved the previous league coordinator Ben Ptacek so he could focus on other duties as the President of the club. Adams grew soccer operations from 1 league team to four playing on a year round basis by 2013. Within two years over 200 members had joined the TC jacks network to form 7 teams year round and up to 11 teams during peak season. Ryan Adams was integral in providing soccer at all levels from community pick up soccer 20 times a year, league play, and multiple traveling tournament teams. Adams mission was to grow opportunity and involvement for all LGBT persons, which included a strategy for growing the Jacks to being a more inclusive club of the allied community as it provided more opportunity to play on different days, at varying levels of play and a sustainable model for soccer offerings.
The Jacks are unique in that they do not host tryouts for their teams. Since the organization has long grown organically, so have the teams. Many teams consist of players who have played with one another for several seasons and their friends of new and old have also joined, meanwhile most teams are formed based on self identified skill level and availability of each player.
In 2015, after 4 years of a hiatus from national and international competitions, the Jacks entered the out of state soccer scene once again. Here are the results:
August 2015 – IGLFA North American Championships, Madison, WI. 3rd place finish.
January 2016 – Sin City Shootout, Las Vegas, NV – This 16 team tournament featured two divisions of 8 teams from various cities around North America ranging from California to Toronto. The Jacks were promoted from Division II to Division I during this tournament where they went on to earn 3rd place after a double elimination by Weho, the winner all 4 Sin City tournaments.
June 2016 – Pride on the Pitch, Chicago, IL – 1st Place in DII.
August 2016 – IGLFA World Championships, Portland, OR – 2nd Place DII. The team earned the chance to play under the lights of Providence Park, home to the MLS Portland Timbers.
January 2017 – Sin City Shootout, Las Vegas, NV – 2nd place DI. An exhilarating tournament where the Jacks knocked our Weho, the 5 time champion. Unfortunately the Jacks could not take down San Francisco Spikes after beating them in the round robin.
Today the TC Jacks remain a 100% volunteer and member led organization. There's a renewed focus on bringing greater awareness for the need of a sporting opportunity for the LGBT community, to combat homophobia at all levels of soccer in Minnesota and to teach our community about health and the game of soccer. Participating in TC Jacks activities is easy and open to everyone! We proudly welcome Allies to the LGBT community to join our team. In the spring, summer and fall, we host pickup soccer at a local park. Pickup soccer is for players of all skill levels. Whether you've never kicked a soccer ball or played all your life, pickup soccer will have something for you. It's free to the community in an effort to continue to engage and advance equality in the sport of soccer. Beyond that, we offer opportunities play in leagues and tournaments. Our community outreach has extended to promoting coaching and officiating, to bringing diversity and inclusion to MN United, the Dark Clouds supporter group of MN United, and taking a national leadership role among LGBT clubs to advance LGBT soccer.
As we look into the future, we fully anticipate hosting an international tournament, continuing to combat homophobia in our local sporting community, connecting more with local referees to advance LGBT persons and allies in that capacity of our sport, and grow the support from community businesses to assure opportunities will be around for a long time to come.